Release Date: Friday, June 02nd, 2023
Film:
MEDAL
Language:
Punjabi
Sub-titles:
English
Runtime:
135 minutes
Release:
Friday, June 02nd, 2023
Banner:
Desi Junction and Jassi Lokha
Director:
Maneesh Bhatt
Starring:
Jayy Randhawa, Baani Sandhu,
Pradeep Singh Rawat, Hobby Dhaliwal, Anita Meet,
Jug Sandhu, Kavi Singh, Guri,
Gurman Sandhu, Bajwa, Manjeet,
Galav Waraich & others.
Rajvir Singh, a young athlete, dreams of winning a gold medal, but tragedies always prevent
him from achieving his goal. After losing his hearing due to an accident, he gets admission to an athlete
academy where he befriends Angad, an arrogant athlete. Angad betrays Rajvir and frames him for drug
possession, leading him to jail. His experience in jail transforms him into an angry man seeking revenge.
He becomes a gangster and takes revenge on those who harmed his family.
Jayy Randhawa
Baani Sandhu
Pradeep Singh Rawat
Hobby Dhaliwal
Anita Meet
Jug Sandhu
Kavi Singh Guri
Gurman Sandhu
Bajwa
Manjeet
Galav Waraich & others.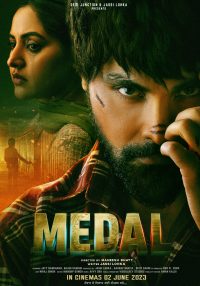 Director
Maneesh Bhatt
Banner
Desi Junction and Jassi Lokha
Producer(s)
Jassi Lokha
Gaurav Bhatia
Dixit Sahni
Writer
Jassi Lokha
Music
Avvy Sra
Lyrics
Manoj Muntashir Shukla
Language
Punjabi

Sub-titles
English

Genre
Action

Film Rating
Universal
Release Date
June 02nd, 2023
Visual Format
Cinemascope 2D
Sound Format
Dolby Digital 5.1 Surround
Run Time
135 minutes (2 hrs. 15 mins 00 sec)
Country of Origin
India
Overseas Theatrical Distributor
AA Films Ltd, UK.