Release Date: Thursday, June 29 th , 2023
Film:
Carry On Jatta 3
Language:
Punjabi
Sub-titles:
English
Runtime:
140 minutes
Release:
Thursday, June 29 th , 2023
Banner:
Humble Motion Pictures
Director:
Maneesh Bhatt
Starring:
Gippy Grewal, Sonam Bajwa, Binnu Dhillom,
Jaswinder Bhalla, Gurpreet GHUGGI, Karamjit Anmol,
B.N.Sharma, Kavita Kaushik, Shinda Grewal,
Nasir Chinyoti, Harby Sangha, Rupinder Rupi,
Naresh Kathooria.
A well to do family man Advocate Dhillon's son, Jass, loves Meet but Meet's brothers, Iqbal and
Iqrar, get in a tussle with Adv. Dhillon. As a result, Adv. Dhillon rejects Meet's hand in marriage
for Jass. Left with no option, Jass weaves a madhouse plan to propose his friend, Goldy's wife,
Diljit, as his next and only choice. The idea was if he could not make his father love Meet, he
would make him hate Diljit so much that his dislike for Meet would be a non-issue in
comparison. But like they say, man plans, and God laughs. And you shall join the Jattas on this
mad laughter journey!
Gippy Grewal
Sonam Bajwa
Binnu Dhillom
Jaswinder Bhalla
Gurpreet GHUGGI
Karamjit Anmol
B.N.Sharma
Kavita Kaushik
Shinda Grewal
Nasir Chinyoti
Harby Sangha
Rupinder Rupi
Naresh Kathooria.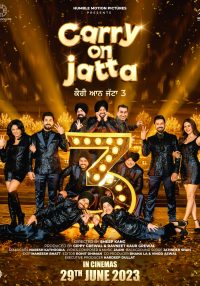 Director
Smeep Kang
Banner
Humble Motion Pictures
Producer(s)
Gippy Grewal
Ravneet Kaur Grewal
Writer(s)
Vaibhav Suman
Shreya Srivastava
Naresh Kathooria.
Music
Jaani
Lyrics
Jaani
Language
Punjabi

Sub-titles
English

Genre
Comedy / Romance
Film Rating
Universal
Release Date
June 29th, 2023
Visual Format
Cinemascope 2D
Sound Format
Dolby Digital 5.1 Surround
Run Time
140 minutes (2 hrs. 20 mins 00 sec)
Country of Origin
India
Overseas Theatrical Distributor
Omjee's Group