Anek
Release Date: Friday, May 27th, 2022
Synopsis:
Anek is a political action thriller, a fierce undercover agent Joshua (Ayushmann Khurrana), is on a mission to unite the country. The film follows Joshua's journey in a conflict-ridden region of Northeast India, where he is posted to facilitate a Peace Accord with the largest militant group and its rebel leader - Tiger Sanga. As a part of his mission, Joshua tries to infiltrate a separatist group by befriending one of its member's daughters, Aido. A ferocious boxer, Aido dreams of winning a gold medal for India. Even though she faces discrimination at every step, Aido continues to fight for a spot in the national team, hoping to be accepted as an Indian by making the country proud. Will Joshua triumph in his mission to unite the country? Will Aido get to prove her mettle? Anek is a heart-wrenching tale that examines what it means to be an Indian and what it takes to rise above the divides plaguing the country.
Starring:
Ayushmann Khurrana

Abhinay Raj Singh

Sharik Khan

Deeplina Deka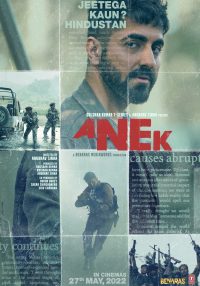 Director:
Anubhav Sinha
Banner:
T-Series Films
Benaras Mediaworks
Producer:
Bhushan Kumar
Krishan Kumar
Anubhav Sinha
Writer:
Simi Agarwal
Yash Keswani
Anubhav Sinha
Music:
Anurag Saikia
Mangesh Dhakde
Lyrics:
Shakeel Azmi
Basharat Peer
L. Jonathan Lemtur
Anubhav Sinha
Language:
Hindi
Sub-Titles:
English
Genre:
Drama / Social / Action / Thriller
Film Rating:
Universal
Release Date:
May 27th, 2022
Visual Format:
Cinemascope 2D
Sound Format:
Dolby Digital 5.1 Surround
Run Time:
148 minutes (2 hrs. 27 mins 50 sec)
Country of Origin:
India
Overseas Theatrical Distributor:
Cinestaan AA Distributors, UK.